Apple launches iPhone 7: A bridge device for 10-year anniversary iPhone in 2017?
Apple CEO Tim Cook launched the iPhone 7, a device that revamps the home button, improves the camera, and adds a series of interesting yet potentially incremental updates.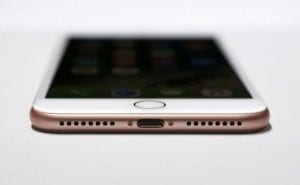 The new iPhone 7 sports a slightly new look and comes in two new colors, a matte black and a glossy black.
Another year, another iPhone launch, and Apple has added to the iPhone 7 and iPhone 7 Plus to its repertoire – sticking to the two model convention of recent years.
This year's launch has seen some surprisingly daring changes, alongside some more predictable tweaks. I went hands on with the new handsets for a close look.
How does it look?
Given that iPhone 7 is 4.7-inches and the 7 Plus is 5.5-inches, the key difference in the new 7 generation and the previous one is their finish: a glossy jet black and a matte black, known aptly as 'black'.
Camera: It's still rocking a 12MP sensor, but it's 60 per cent faster now, and 30 per cent more energy efficient. This is good news for shutterbugs who worry about their phone batteries getting drained. The lens has a wider f/1.8 aperture now, … On top of the regular 12MP lens, the iPhone 7 plus has a second 56mm telephoto lens (compared to the standard 28mm lens). Anti-flicker should adjust the shutter to cope with artificial light. Finally, you can save RAW files as well as JPEGs.
Apple has mostly stuck with the same exterior design, so in terms of shape it's near identical to the iPhone 6 and 6s.
There were few surprises at Apple's iPhone 7 launch. There's a revamped camera system and water resistance, and the home button received Force Touch technology. Yeah, it is the very first waterproof Apple phone.
AirPods are wireless in-ears that'll rock for five hours on a single charge, but they look a bit like a pair of rabbit ears. The obvious question is: "Why remove the jack at all?" Turns out, having a great big hole in your phone is a hindrance to keeping WATER out. (okay, okaya, it is also really dust resistant!) But! you Have to Charge Regularly.
AirPods charge in a custom case and connect to the iPhone and Apple Watch. They can, Apple says, switch "seamlessly" between entertainment and calls. Sensors know when you're listening to music and play automatically, while a 'double-tap' lets you adjust volume and soundtracks. AirPods come out in October and are priced at £159. Source
These little headphones are not connected to each other by a wire like most wireless headphones, and use infra-red technology to sense when they're in your ears. Removing one will pause the song you're listening to, and double-tapping one while it's in your ear will trigger Siri, the iPhone's digital assistant. Once they're in your ears, AirPods offer surprisingly deep and well-rounded sound. I found it difficult to hear the hubbub surrounding me in the busy hands-on area. Source
"AirPods are the first headphones to deliver a breakthrough wireless audio experience, and with the new Apple W1 chip they deliver innovative features including high quality sound, great battery life and automatic setup," Philip Schiller, Apple's senior vice president of Worldwide Marketing, said following the launch.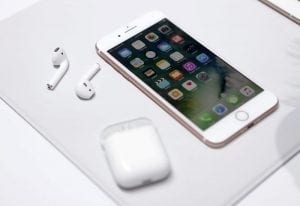 "AirPods are simple and magical to use, with no switches or buttons, automatically connecting to all your Apple devices simply and seamlessly".
The whole thing is sealed, and the IP67 rating means there aren't really any holes for sand and grit to hide in.
Well, Storge??
Apple kills off 16GB storage for the iPhone 7..
The iPhone 7's new base-level storage is a somewhat more sensible 32GB, with the other editions offering 128GB and a new 256GB of internal space. 256GB is a lot for a phone.
BUT, The iPhone 7 starts at $649 for the 32GB model and the iPhone 7 Plus starts at a jaw-dropping $769. Source
Performance? Processor?
As you'd expect, the processor in the iPhone 7 was also updated. It's called A10 Fusion, which promises to be faster than the 6s. More importantly, it's a four-core processor that features two low-power cores that should help improve battery life. Apple's promising the longest battery life of any iPhone, claiming it's about 2 hours longer than the iPhone 6s. source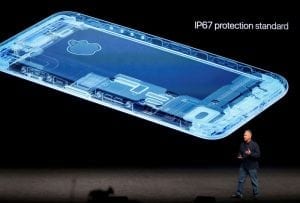 Overall, Apple touted the polish, efficiency, materials, and finish of the iPhone 7. Apple pitched the iPhone 7 as the most evolved of its iPhones. "This is the best iPhone we've ever made," said Phil Schiller, Apple's marketing chief.
Apple's iPhone 7 updates are powered by a new 64-bit processor, A10 Fusion, which is 40-percent faster than the A9. The A10 Fusion has two cores and run at one-fifth of the power. The iPhone 7 will shift between high performance and longer battery life in chip. Adobe Lightroom can be used on the A10 Fusion and replicates most of the features found on the desktop app.
The company says the iPhone 7 battery lasts two hours more than the iPhone 6S on average. Preorders for iPhone 7 start Sept. 9, with Sept. 16 availability. Pricing starts at $649 for iPhone 7, with 32GB/128GB/256GB storage options. Here's the lineup with installment plans.
Among the interesting items:
– Apple revamped the home button with a new Taptic Engine.
– New water- and dust-resistance feature may help iPhone get into more rugged enterprise uses.
– A six-element lens and revamped camera system: "Everything about it is entirely new," said Schiller.
-The iPhone 7 Plus has a dual-camera system that can take an optical zoom from 1x to 10x. The larger zoom is software-based. "We are not saying to throw out your DSLRs… What we are saying is this is the best camera we've ever made in a smartphone," said Schiller.
-Apple moved to ditch the headphone jack and will connect headphones over Lightning. There are 900 million Lightning-enabled devices. Schiller said the plan was always to use Lightning for power, control, and audio. There will also be an adapter that'll be included in the box with iPhone 7 with no extra charge. "Some have asked why we would remove the analog headphone jack from the iPhone. It has been with us a very long time," said Schiller. "The reason to move on comes down to one word: courage."
-Apple AirPods, which improve wireless connectivity for better audio quality and five hours of listening, switch between devices — and iCloud sets them up with one step.
-A new chip, called W1, which is Apple's first wireless chip, will power the AirPods.
-A new version of NFC will enable Apple Pay in Japan.
In the US, the iPhone 7 and iPhone 7 Plus will launch for exactly the same price as the iPhone 6S and iPhone 6S Plus.
In the UK, the iPhone 7 will be available from a starting price of £599 for the cheapest 32GB option. The 128GB version costs £699 and the 256GB version will set you back a whopping £799.
The larger iPhone 7 Plus will be even more of a wallet buster than it's smaller sibling. The cheapest (32GB) iPhone 7 Plus costs £719, followed by a 128GB model at £819, and then a 256GB variant costing an astonishing £919 in the UK. Source
During the annual iPhone event, senior vice president of worldwide marketing Phil Schiller said Apple was ditching the headphone jack found in pretty much every audio device ever made because of "courage." Yeah, not so much…
That leaves pain. In reality, the only pain being felt will be in users' wallets when they lose their $9 lightning-to-mini-jack connector or throw down $160 for those AirPods. You should really stock up on this adaptor that gives your new iPhone a tail. Source
It seems plausible that the company is holding its innovation fire until next year.
iOS 10 Launches Tuesday, September 13
iOS 10, which packs a ton of new features, including a brand new lock screen and a bunch of little tweaks to the Messages app, will arrive next Tuesday, September 13.